I have been so behind, but here are a few new things about out family!
Agnes:
Ahh... my baby girl is almost 22 months? Like almost 2! Crazy... I have been SO behind with updates, so here are a few funny things she does, mostly for my own record.
For some reason the word water is nani...? She says everything else clearly, but nani has stuck...(Amazingly enough, the Otters at the aquarium are also Nani...Otter=Water?)
Always saying, "I do it!"
Calls herself Addie
Talks on anything that looks like a phone...she chats with Mickey (Witty), Daisy, Goofy (Woofy), Pluto (Puldo) etc.
LOVES Watermelon (Nani melon)
In love with slides and is always saying "more more time"
Always asking for chicken, fry, nani=Wendy's
Loves to dance, especially to that dope zebra video on youtube.
Loves to sing, especially, "I love to see the Temple" as we pass it each day. I am so shocked how many words to songs she knows. She can sing, "I, I love you like a love song Baby!," "Do as I'm Doing," "Rock a Baby, Treetop" And she says "Libby, me?" For "I love Libby (my parent's dog), she loves me."
Loves to line up these toy dogs at my parent's house. She puts each dog by it's mommy (dalmations together, brown dogs together, poodles together) I think she is pretty smart.
She knows her dad is the coolest thing in the entire world. She loves him SO much. She used to be a momma's girl (until I cut the milk supply! ahh...still working on that) but now her Daddy is her everything!
She has started to get a little feisty rage! ahhh... She does this thing where she squeezes her fists until she shakes when she doesn't get her way. She also has been doing a lot of time outs lately... but I think she's learning from them. Poor little brother on the way, I hope you don't get too beat up!
She loves being outside and would live out there if I let her.
She is a lot like her daddy and loves to work. She always has to be working on something. When we are at the grocery store and she sits in the cart, she says, "work, keys?" and she fixes the cart with my keys. She loves screwdrivers and works on every door jam in the house with them.
She is completely fascinated and terrified of bugs.
She is so tough. She falls and scrapes up her knees all day long and doesn't even care. She came over laughing and said, "Look Mom!" as her knees were bleeding!
Loves hugs and kisses... She always catches me when I am busy, like doing the dishes and says, "hug???" like she is so offended and has been asking all day...
She loves saying please, thank you and sorry. I think it is so cute. I don't even have to tell her to say them. She ran into a chair yesterday that totally knocked her down and she stood up and said, "Sorry chair!"
It is so crazy that my little baby is such a little person now. She can totally tell you exactly what she wants. She is cute, sweet, fiery and feisty and I love her so much. Although I am a little scared to have another baby in the house... so excited, but scared!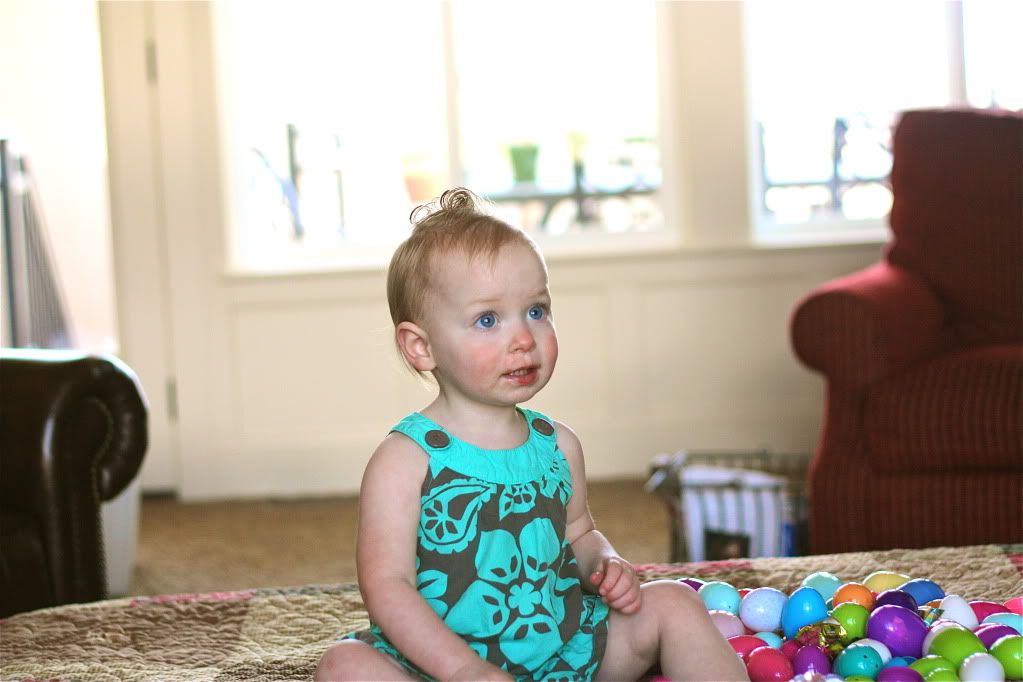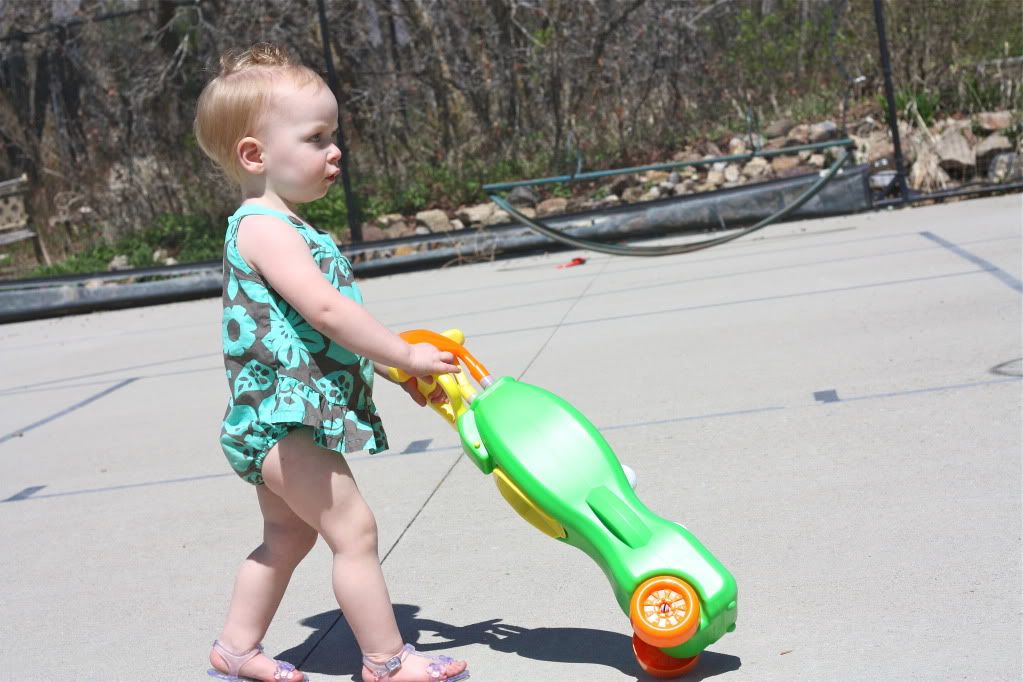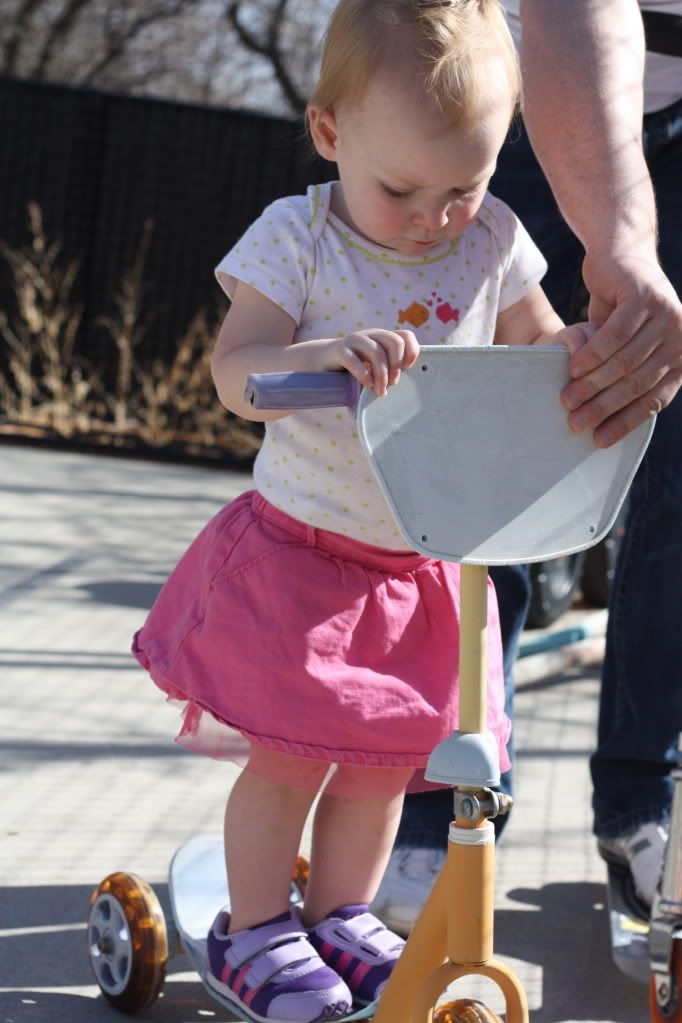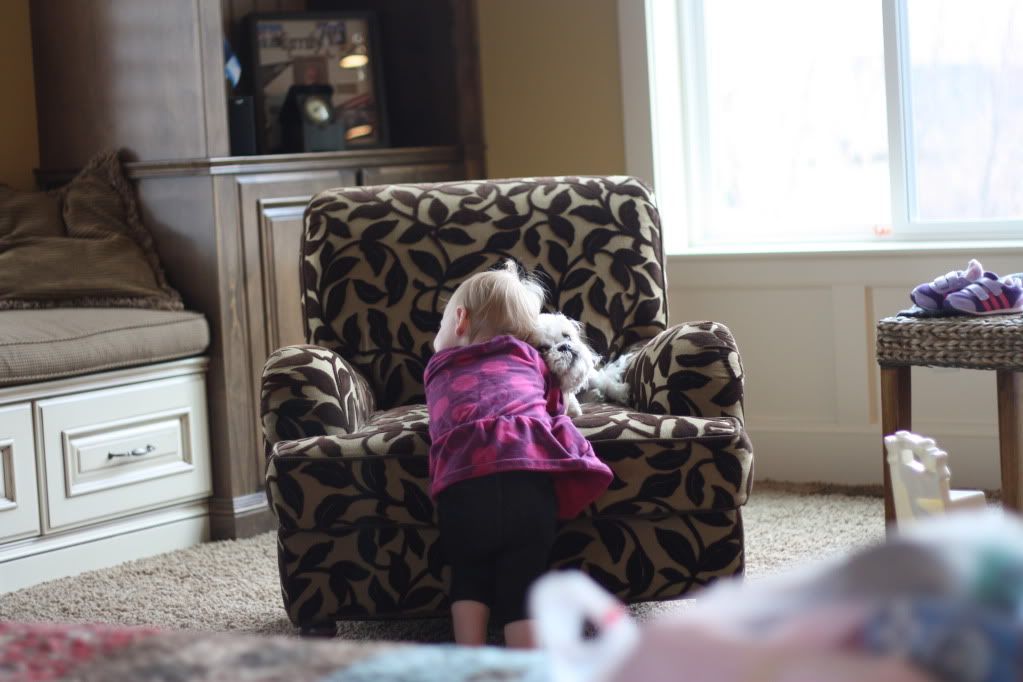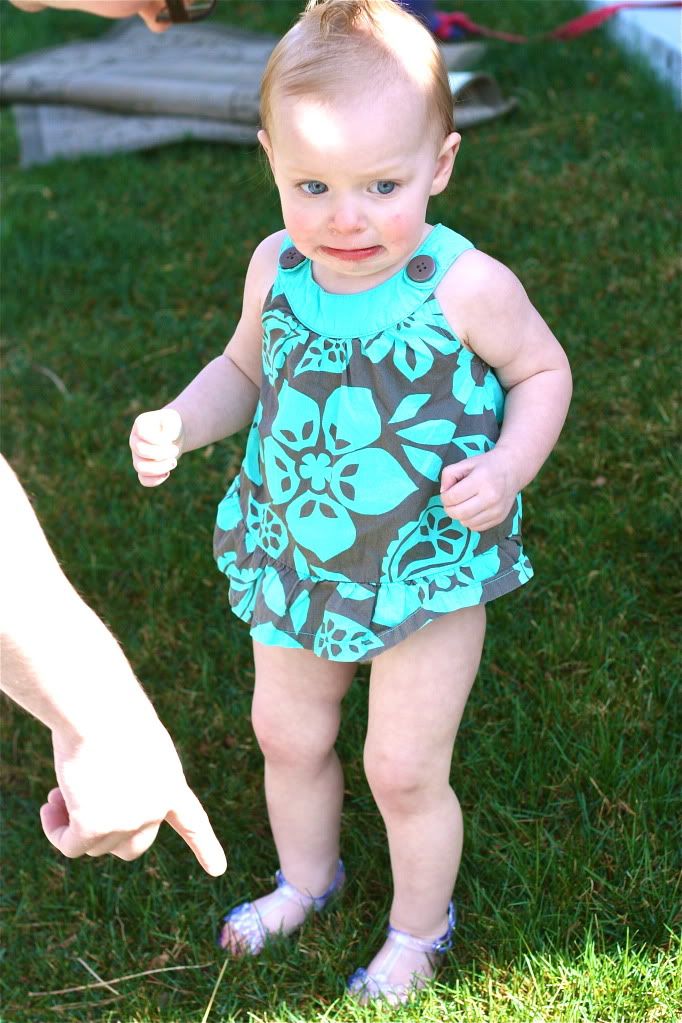 (She did not like the wet grass during our Easter egg hunt! ha... oh also, remember how she got this outfit last Easter? Still wearing it... haha)
Evan:
Had 2 more lame classes for school that had been put on the backburner for a while, but he will be finishing them up next week and graduating from BYU! YAHOO! He is more than ready!
Went on another 2 week training for work to Massachussetts and it was hard on me, but he learned a lot!
He LOVES his job at EMC and they love him... I can brag right?!
Kelsey:
Just cooking a baby, chasing a toddler, and trying to get dishes and laundry done!
Baby Boy:
Doing great, still practicing soccer in there... 28 weeks!!! 3rd trimester here we come!
Best News:
SO, a while ago, things were not looking so good for me. I was depressed about pregnancy complications, I was depressed about house hunting... We had looked and looked for months, and not finding anything that we liked. I had this vision of me nursing my new baby in my new home, with all of my organs intact watching the Summer Olympics... and sadly it seemed like too much to want. But, all in the matter of about one week, everything fell into place! We got our miracle ultrasound that showed everything was great, we walked through this home that we loved, put an offer and it was accepted!!! We are currently in the process of buying a house in American Fork! We are thrilled!!! It has a huge yard, a storage room (most excited for this!) and 5 bedrooms! So excited that baby boy is going to have a room! We will for sure be in it by the end of May, hopefully sooner.
We feel so overwhelmed with the blessings our family have received lately! Life is beautiful and we are so happy!!!