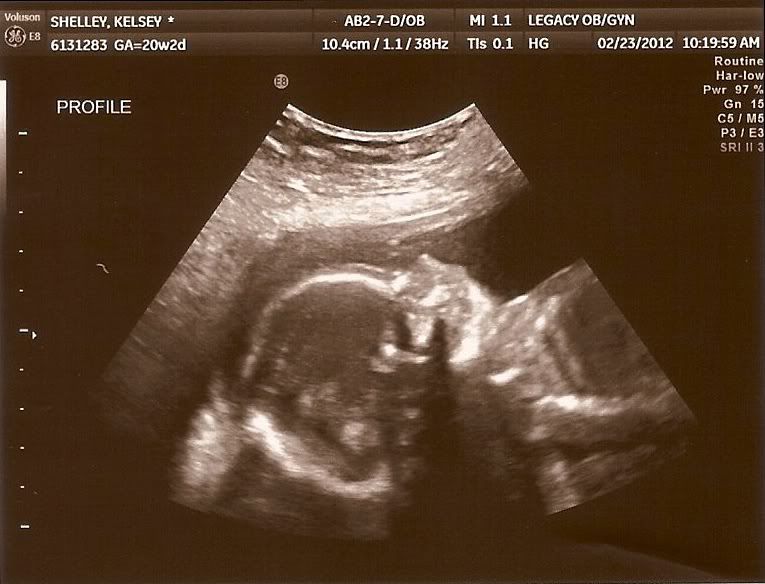 We went for our 20 week ultrasound last week and found out we are having a little BOY! We are so excited! Baby boy looked great and healthy and we are so glad!
We also found out that I have complete Placenta Previa (which means the placenta is covering the cervix instead of being high up in the uterus) This usually means possible preterm labor and another C-section (which I was already pretty much prepared for). However, the biggest problem that my Dr found is that the placenta is also covering my scar tissue from my previous C section. The placenta can burrow down into the scar tissue to find adequate nutrition and when this occurs, the placenta cannot be removed at delivery. He told me that at that point, the only way to stop the bleeding and save my life would be to have an emergency hysterectomy.
This was devastating news for me. I am so scared and I want more children...
Most placenta previas move out of the way as the uterus grows... We just have to pray that this one isn't too stuck and can move too. We are hoping for a miracle.
This has been the hardest week of my life... thinking of the possibility of this being my last child. I know that I will have two wonderful children and I am so incredibly grateful for that, but for me, it doesn't feel like it is enough.
I know I have a loving Heavenly Father who knows me and my needs. I have faith that through him, anything is possible. I feel so blessed to be a mother. It is the greatest gift I have ever been given and I only hope we can continue to be blessed with more sweet children in the future. I know that miracles are possible. I know that my Heavenly Father answers my prayers and that he will answer these prayers at this time, but I know that prayers are not always answered the way we want them to be. That is the part that scares me... but I also have to trust that he knows the big picture, he knows the bigger plan for me and for our family...
Of course this week I was reminded of these beautiful words from President Uchtdorf's talk to the sisters last conference...
"Sisters, wherever you are, whatever your circumstances may be, you are not forgotten. No matter how dark your days may seem, no matter how insignificant you may feel, no matter how overshadowed you think you may be, your Heavenly Father has not forgotten you. In fact, He loves you with an infinite love. Just think of it: You are known and remembered by the most majestic, powerful, and glorious Being in the universe! You are loved by the King of infinite space and everlasting time!
He who created and knows the stars knows you and your name—you are the daughters of His kingdom."
If you can, please remember us in your prayers.
Thank you from the bottom of our hearts!!